Jun 17, 2012
No Comments ››
admin
Plenary Statement to ICLEI Local Governments for Sustainability World Congress 
Belo Horizonte, Brazil
June 17, 2012
Distinguished colleagues,  my name is Dominic Frongillo, from Caroline, New York, in the United States. I am here representing the citizens of my town, who, like so many others, are pursuing a vision for sustainable future. We are the second municipality in New York State to use 100% wind power, and are building a local food and clean energy economy. We have joined with other local governments, higher education, nonprofits, and businesses to collaborate to pursue sustainability  in our region through the Tompkins County Climate Protection Initiative.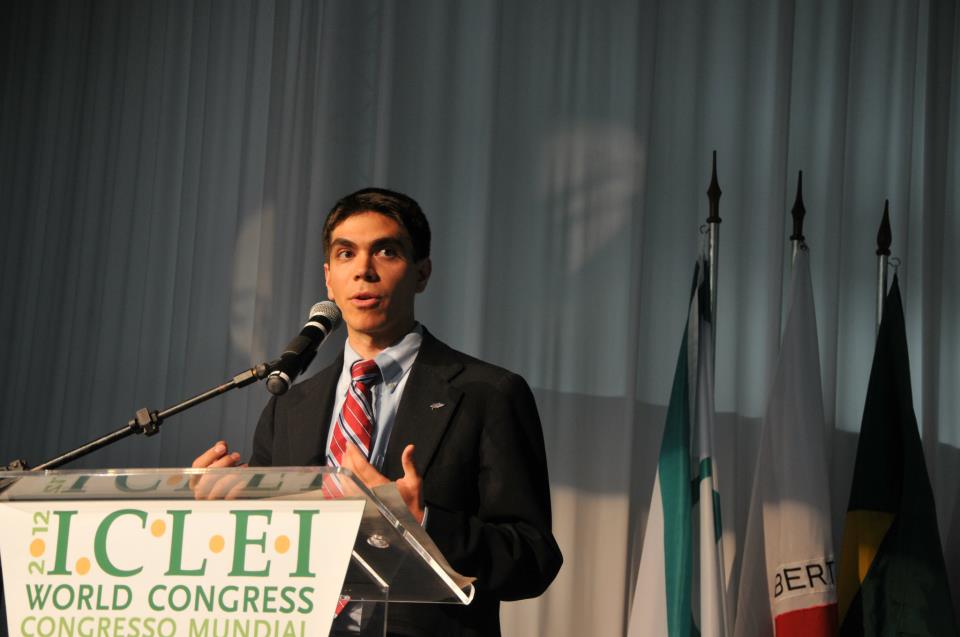 Now, we find ourselves fighting to protect our community from unsafe hydraulic fracturing extraction of natural gas. I'm proud to have witnessed an unprecedented democratic outpouring – fully half of our citizens petitioned our council and then voted in our November election 2-to-1 to ban dangerous hydraulic fracturing in our community and instead move towards a sustainable future. It's the largest citizen movement in our town's history. Our story is one of thousands of stories playing out in communities around the world.
I am one of several young municipal leaders here in Belo Horizonte participating with the ICLEI FutureCityLeaders initiative. We are pleased to participate and meet many of you. We have heard the challenges we face are urgent. ICLEI Deputy Secretary General Gino van Begin said, as humanity experiences ecological overshoot in our resource consumption, going from one and a half planets down to one planet will be far easier than going from three planets down to one planet. We also must challenge ourselves to go further, for example, pursuing not just carbon neutral cities but carbon negative cities.

As local governments we are called to lead the world's transition to a sustainable future. Cities have an opportunity to create the full vision for a just, thriving, inclusive, and sustainable world. We have the responsibility to expand our vision and mission. We need bold, integrated thinking from visionary mayors and staff, who see what is possible and will lead us boldly towards a full vision of sustainability. That's why I would propose we hold our next World Congress in Bhutan, a nation that developed the Gross National Happiness Index to measure what matters: social progress and quality of life.
Throughout these sessions, I have been struck that we are uniquely positioned as local governments. Our cities and towns are open and responsive. Even at our World Congress, we see a diversity of participants from citizens, researchers, NGOs, and businesses. We are open to civic participation. We are responsive to our citizens and the challenges we face. We are where the action is happening. We are leading the world into Rio and beyond.
I'm grateful that there is an organization like ICLEI which connects us and brings us together. Our World Congress is not just a conference, but is sustaining, growing, and strengthening a movement — a global movement of people, acting through their local governments, responding to our common global challenges.
Jeb Brugmann encouraged us to see our cities as "productive cities." A productive city grows not only food, water, energy — it grows engaged, active citizens. With the scale of our challenges, we cannot succeed alone. We need to unleash the human potential within our cities.
We must not only design, plan, and legislate for sustainability, we must educate, engage, and motivate for sustainability.
We must ensure that we are catalyzing and supporting participation of the full diversity of institutions, innovations, and actors that are needed for theses dramatic transformations.
It is not only future generations which are at stake. Many of our citizens and cities are now being impacted every day by poverty, malnutrition, ecosystem degradation, lack of opportunity, and lack of inclusion. We must not only work on behalf of future generations; but see the future is now. Half the world is under 25 years old. This generation is already living through the consequences of the extractive, exploitative economy, and will continue to do so throughout our lives.
We now see our planetary transition to a just, sustainable future will be a multi-generational journey. As Jeb Brugmann recounted, the founders of ICLEI "started our careers being audacious revolutionaries." The cohort who has provided leadership is now growing older and wiser. We must now engage and partner with the next generation of revolutionaries and innovators who will carry our work forward.
This means not just asking young people what they want, but engaging in dialogue about the full range of challenges we face.
We've heard inspiring examples of multi-generational democracy. Betty Tabanda from the Philippines, shared that in her city, youth ages 15 to 18 elect a city councilmember from their age who is an equal partner in setting policy, with full voting rights and salary. In the United States, in the last seven years, we have see the number young elected officials grow from seven to over 700 from all 50 state.  Now, 16 of those young elected officials are running for U.S. Congress. Not only are young leaders the leaders of today, young local government leaders of today will be the provincial and national government leaders of tomorrow.
We need your help to build this network of emerging leaders in our local governments. Invite the young leaders in your cities to participate in this network to build relationships, share innovations, and strengthen our collective leadership for our cities and nations.
Thank you. Thank you for your commitment and service to your communities and the people you represent.
Let us have the courage to challenge ourselves and those around us to take even more bold action to pursue our vision of a just, inclusive, thriving, safe, and abundant world for all.