Jul 29, 2013
1 Comment ››
admin
Dear friends, family, neighbors, and colleagues,
After eight years of service to my hometown of Caroline, New York, this weekend I announced that I will step down from the Town Council in August to pursue a professional opportunity in Freiburg, Germany.
Freiburg is a leading city in sustainability, and I will bring back what I learn to the U.S.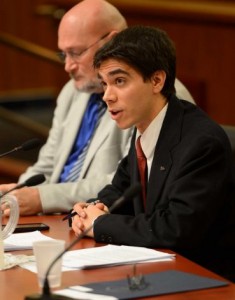 Celebrating our accomplishments
Eight years ago, I chose to forgo the Peace Corps to remain in upstate New York to serve my community in public office. I wanted to help make a difference in the world — starting at home. I saw government as a forum to jointly determine our future, and strove to listen intently and advocate for people.
Working together, we have accomplished a great deal: we adopted our first-ever comprehensive plan, protected our aquifers, kept high-quality services up and tax rates down, made government information accessible, enhanced energy independence, and advanced high-speed internet access. Leadership from citizens made all this possible.
I am most proud of our work towards energy independence from fossil fuels. With the help of our citizens, Caroline became the second municipality in New York State to buy 100% windpower, explored community-owned windpower and hydropower, built an office building powered by the sun and cooled by the earth, delivered energy-saving light bulbs to every Caroline family, tightened up homes, and is now bringing affordable solar power to rooftops across three towns.
Lessons learned
Yet, I've learned we cannot achieve our vision alone. The reality of climate disruption led me to represent Caroline's call for urgent action in the halls of the United Nations and the White House, and from Copenhagen to Durban. Along the way, I was blessed to meet so many passionate, dedicated people working to make our world a better place.
I've also learned that no place is immune from the consequences of our dirty energy economy. When the gas industry threatened to frack in Caroline, I was inspired by witnessing the largest citizen's movement in our town's history rise to protect our home.  We're not alone; across our state and nation, and around the world, people are working to protect the communities they love.
After all, throughout history when the stakes are high, it is we the people who have risen together to secure our future.
Deciding to resign a few months early from my commitment to the people of my town was difficult. These rolling hills, open fields, and starry skies are my home. As I turn 30 years old, I feel that now is the time to immerse myself in an innovative city on the forefront of sustainability, and to return with new ideas and deepened resolve.

Gratitude & looking to the future
I am deeply grateful for your support and encouragement over the last eight years — it has meant so much to me. Among the many people and organizations have enriched my life and work, in particular I would like to thank the following:
Most importantly, from the heart I thank the citizens of the Town of Caroline and Tompkins County for entrusting me with the opportunity to serve the community I love.
I'll be back to visit and I look forward to staying in touch as we continue our work together. Please feel free to drop a line at dominic.frongillo@gmail.com, and follow my updates at www.facebook.com/dominic.frongillo and www.dominicfrongillo.com.
All my best,
Dominic Frongillo
Caroline Town Councilmember
2006-2013