Dominic Frongillo is Former Deputy Town Supervisor and Councilor of Caroline, NY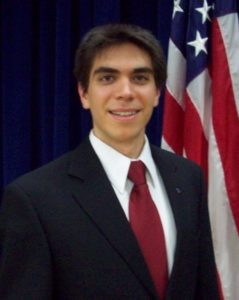 Dominic Frongillo made history at age 22 by becoming the youngest person ever to serve on the Town Council in Caroline, New York. Elected to his second term in 2010, Frongillo also served as one of the youngest deputy town supervisors in New York State.
Frongillo is a five-time delegate to the United Nations, traveling to climate negotiations in Indonesia, Denmark, Mexico, and South Africa. In Copenhagen, Frongillo coordinated and delivered a statement from over 100 young elected officials from 30 U.S. states calling on President Obama and Congress to renew America's leadership in clean energy.
In 2012, Frongillo founded Elected Officials to Protect New York, a successful bipartisan initiative of 850 local lawmakers from all 62 counties that helped win New York's statewide ban on fracking.
Frongillo served under Governor David Paterson on the advisory panel for New York State's far-reaching 2050 Climate Action Plan, is trained by Vice President Al Gore as a climate presenter for the Climate Reality Project, is a published author, and is a trainer for the national Young Elected Officials Network and Front Line Leaders Academy.
Frongillo appeared in the documentary Dear Governor Cuomo, the 2012 documentary that featured Natalie Merchant, Mark Ruffalo, Melissa Leo and invited New York Governor Andrew Cuomo to join the anti-fracking movement.
In 2012, Jeff Thigpen, author of On Point: Voices and Values of the Young Elected Officials, profiled Frongillo as one of America's 16 most notable young elected leaders. Liz Walker, in her new book Creating Sustainable Communities: Ideas and Inspiration from Ithaca, New York, profiled him as of the region's foremost champions for the clean economy.
In February 2012, the international ICLEI Local Governments for Sustainability, whose local government members represent more than 560 million people worldwide, selected Frongillo as one of seven founding members of the inaugural FutureCityLeaders initiative.
A graduate with honors from Cornell University's College of Human Ecology in 2005, Frongillo earned an independent degree in Sustainable Community Development.  He co-founded and led Energy Independent Caroline, coordinating three "Lighten Up!" campaigns that mobilized 1,000 volunteers to deliver an energy-saving light bulb to nearly 20,000 households in 3 hours across 7 towns, the largest campaigns of their kind in the Northeast and inspiring similar campaigns across the country.

Frongillo is a frequent speaker at international conferences and universities such as Brown, Cornell, Richmond, Furman, and Colgate.
A lecturer in American politics at the University of Freiburg, Frongillo consults on urban sustainability in Germany's Green City. He's an avid bike rider, runner, and traveler, loves history documentaries, science fiction, and exploring and protecting our living world.
Awards and Distinctions
National Finalist, 2012 Barbara Jordan Leadership Award, Young Elected Officials Network
Senior Fellow, Environmental Leadership Program
Inaugural Member, ICLEI FutureCityLeaders global initiative
Inaugural Member, National Youth Climate Leaders Network