Dominic Frongillo is Former Deputy Town Supervisor and Councilor of Caroline, NY
Dominic Frongillo made history at age 22 by becoming the youngest person ever to serve on the Town Council in Caroline, New York. Elected to a second term in 2010, Frongillo served as one of the youngest deputy town supervisors in New York State.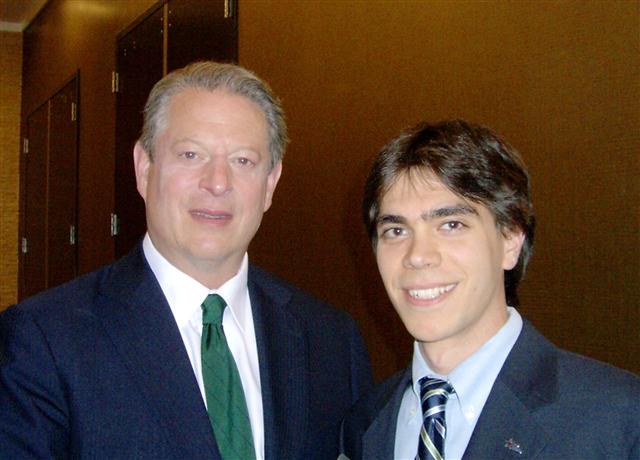 Internationally recognized for his work in clean energy and sustainability, Frongillo is a finalist for the national 2012 Barbara Jordan Leadership Award from the Young Elected Officials Network.
Frongillo is a five-time delegate to the United Nations, traveling to climate negotiations in Indonesia, Denmark, Mexico, and South Africa. In Copenhagen, Frongillo coordinated and delivered a statement from over 100 young elected officials from 30 U.S. states calling on President Obama and Congress to renew America's leadership in clean energy.
In 2012, Frongillo founded Elected Officials to Protect New York, a bipartisan initiative of over 825 elected officials from all 62 counties calling on Governor Cuomo to continue the moratorium on fracking until the drilling method is proven safe for all New Yorkers.
Frongillo served under Governor David Paterson on the advisory panel for New York State's far-reaching 2050 Climate Action Plan, is trained by Vice President Al Gore as a climate presenter for the Climate Reality Project, is a published author, and is a trainer for the national Young Elected Officials Network and Front Line Leaders Academy.
A graduate with honors from Cornell University's College of Human Ecology in 2005, Frongillo earned an independent degree in Sustainable Community Development.  He co-founded and led Energy Independent Caroline, coordinating three "Lighten Up!" campaigns which delivered an energy-saving light bulb to a total of 20,000 households in 3 hours, the largest campaigns of their kind in the Northeast and inspiring similar campaigns across the country.
In 2012, Jeff Thigpen, author of On Point: Voices and Values of the Young Elected Officials, profiled Frongillo as one of America's 16 most notable young elected leaders. Liz Walker, in her new book Creating Sustainable Communities: Ideas and Inspiration from Ithaca, New York, profiled him as of the region's foremost champions for the clean economy. Frongillo appears in the documentary Dear Governor Cuomo: the Concert Protest Film.
In February 2012, the international ICLEI Local Governments for Sustainability, whose local government members represent more than 560 million people worldwide, selected Frongillo as one of seven founding members of the inaugural FutureCityLeaders initiative.
Frongillo currently resides in Freiburg, Germany, where he leads international business development for Thomas Daily, a leading market intelligence provider for the commercial property industry with a focus on sustainable development.
Curriculum Vitae
Awards
National Finalist, 2012 Barbara Jordan Leadership Award, Young Elected Officials Network
Inaugural Participant, ICLEI FutureCityLeaders initiative
Policy Development
Caroline Town Council  January  2006 – 2013
Council Member and Deputy Town Supervisor, Caroline, NY
Former Committees: Deputy Supervisor; Planning Board, Liaison; Energy Independent Caroline, Secretary; Tompkins County Council of Governments, Liaison; Recreation Partnership of Tompkins County, Chair; Caroline Website Advisory Committee, Chair; Watershed Committee, Chair
Elected Officials to Protect New York   2012 – 2013
Co-founder and Coordinator, Ithaca, NY
Marketing & Education
Cornell Cooperative Extension of Tompkins County  2009 – 2013
Community Energy Educator, Ithaca, NY
College of Agriculture and Life Sciences  2011 – 2012
CALS Green Coordinator, Cornell University, Ithaca, NY
Energy Policy
Energy Independent Caroline  2005 – 2013
Co-founder and sectratary, Caroline, NY
New York State 2050 Climate Action Plan  2010 – 2011
Integration Advisory Panel and Residential-Industrial working group
United Nations Framework Convention on Climate Change  2007, 2009, 2010, 2011
Delegate to Bali, Indonesia; Copenhagen, Denmark; Cancun, Mexico, and Durban, South Africa
International Policy
Program in International Nutrition  2006 – 2008
Research Assistant, Cornell University
Institute for Central American Development Studies  May – August 2004
Development Intern, San Carlos, Costa Rica
Memberships
Elected Member, Tompkins County Democratic Committee 2006 – 2013
Steering Committee, Tompkins County Climate Protection Initiative  2009-2013
Trainer and Member, Young Elected Officials National Network 2008 – 2013
Board of Directors, Center for Transformative Action, Ithaca, NY 2012 – 2013
Board of Directors, Black Oak Wind Farm, Enfield, NY 2013
Appointed Member, New York State Climate Action Plan Advisory Panel 2010 – 2011
Member, SustainUS National Youth Network for Sustainability 2005 – 2010

Tompkins County Greenhouse Gas Plan, Steering Committee 2008

Board of Directors, Cornell Cooperative Extension of Tompkins County 2008 – 2009

Coordinator, Central New York Delegation to Power Shift 2009

Secretary, Farmworker Advocacy Coalition, Cornell University 2004 – 2005
Public speaking
Guest Lecturer, University of Connecticut, Avery Point  2014

ICLEI World Congress, Belo Horizonte, Brazil  2012

Featured Guest, DSA Presents Television, Ithaca NY  2008, 2009, 2010

Speaker, Adirondack Youth Climate Summit, Tupper Lake NY 2009, 2010, 2011, 2012
Keynote Speaker, 4-H Career Explorations, Cornell University NY 2010
Keynote Speaker, Youth Energy and Environment Expo, Canton NY 2010
Trainee, Generation Waking Up facilitator training, Colorado 2010
Keynote Speaker, Youth Energy and Environment Expo, Canton NY 2010
Delegate, United Nations Convention on Climate Change, Copenhagen, Denmark 2009

Panelist, Economic Crisis Forum, Ithaca NY 2009

Chairperson, Recreation Partnership of Tompkins County 2007 – 2008
Delegate Alternate, New York State Association of Towns Conference 2007 – 2008
Presenter, Association for the Advancement of Sustainability in Higher Ed. 2008
Keynote Speaker, Little Live Earth, Greenville NY 2008
Keynote Speaker, Low-Income Forum on Energy, Albany NY 2008
Speaker, State of the Planet course, Cornell University 2008
Delegate, United Nations Convention on Climate Change, Bali, Indonesia 2007
Plenary Speaker, Community Forum on Energy, Ithaca College 2007
Participant, Pathways to a Sustainable World Conference, Rochester NY 2007
Participant, Oikos Convergence on Sustainable Enterprise, Cornell University 2007
Delegate, United Nations Commission on Sustainable Development 2006

Participant, Ithaca Car Share Summit, Ithaca NY 2006

Participant, Rural & Migrant Ministry statewide farmworker solidarity tour 2003
Presenter, Democracy Matters student education presentations 2003
Trainee, Empathic Assistance and Referral Services counselor training 2002
Publications
David Pelletier, Purnima Menon, Tien Ngo, Edward A Frongillo, and Dominic E Frongillo. (2011) "The nutrition policy process: The role of strategic capacity in advancing national nutrition agendas."  Food & Nutrition Bulletin, Volume 32, Supplement 2, June 2011 , pp. 59S-69S(11)
Jung Lee, Edward A Frongillo, Maria A Keating, Lauren H Deutsch, Jaclyn Daitchman, and Dominic E Frongillo. (2008)  "Targeting of home-delivered meals programs to older adults in the United States." Journal of Nutrition For The Elderly, Volume: 27, Issue: 3-4, 2008, pp. 405-415