Dominic Frongillo's record of leadership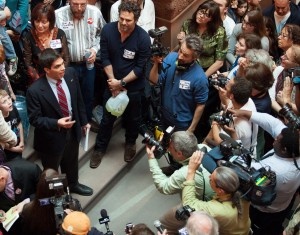 Recognized for his public service and leadership, Frongillo is profiled as one of America's 16 most notable young elected officials in Jeff Thigpen's new book On Point: Voices & Values of the Young Elected Officials and Liz Walker's latest book, Creating Sustainable Communities.  He has appeared on CNN and WCNY and been featured in The Nation, Yes! Magazine Online, The Irish Times, Spanish Publico, Japanese Akahata, the Albany Times Union, and Syracuse Post-Standard.
Ithaca Journal: Lighten Up Tompkins aims to cut carbon emissions. October 26, 2010
Ithaca Journal: Caroline celebrates fifth anniversary of local green movement. October 24, 2010
WSKG Community Conversations: Beyond Oil. July 27, 2010 Minute 14:45.
Ithaca Journal: Pair suggest community buy into Enfield wind farm. June 27, 2010
The Lamron: Shifting Into Green. April 22, 2010.
Ithaca Journal: Ithaca College, Caroline represented at U.N. climate conference. December 3, 2009
Tompkins Weekly: Local Politician to Attend Climate Talks, November 16, 2009 Page 7.
Ithaca Journal: Activists have climate change's number. October 19, 2009
Cornell Daily Sun: Ithaca Creates, Sustains Green Jobs.  April 28, 2009
Ithaca Times: Local youth sound off. March 11, 2009
Ithacan: Students rally for climate change in capital. March 5, 2009
Ithaca Journal: Tompkins students join D.C. climate conference. February 27, 2009
Cornell Daily Sun: Locals Ponder Obama's Future. February 2, 2009
Ithaca Journal: Volunteers deliver bulbs in Caroline. April 21, 2008
Tompkins Weekly: Bali Talks a Learning Experience. January 14, 2008
Ithaca Journal: Caroline rep back from climate summit. January 1, 2008
Ithaca Journal: Local lawmaker, 25, picked to talk at UN summit. November 15, 2007
Ithaca Times: Bali or Bust. November 11, 2007
Tompkins Weekly: Town Official Touts Youth Empowerment. October 8, 2007  Page 5.
Connect Cornell: Paths of Independent Majors. Winter 2006
Photos